Add to Wish List
DAILIES AQUA COMFORT PLUS TORIC DAILY DISPOSABLE CONTACT LENSES FOR ASTIGMATISM (90 LENSES)
Dailies AquaComfort Plus for Astigmatism contact lenses contain a moisturizing agent which is released with every blink for refreshing comfort.
The availability of the product is shown after selecting combination & quantity!
Do not have a prescription?
Book an appointment for a free vision check.
Why You'll Like Dailies AquaComfort Plus for Astigmatism?
Start every day with a fresh pair of contact lenses
Provide crisp, clear vision to those who are nearsighted (myopia) or farsighted (hyperopia)
Also available for people with astigmatism or presbyopia
The plastic part of every pack is 100% recyclable
Light Blue Tint
The slightly blue tint helps to better handle contact lenses and avoid accidents without affecting your vision.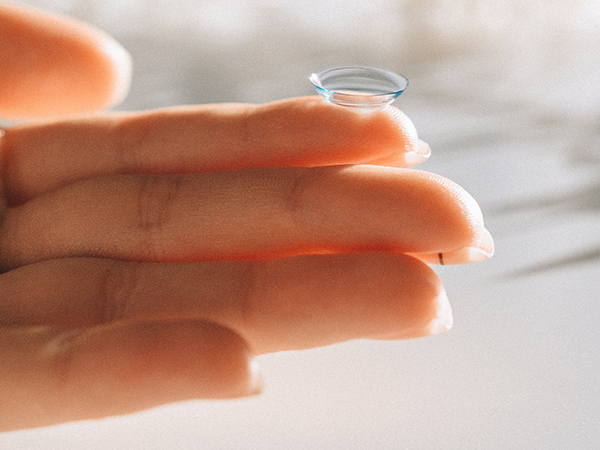 Daily Disposable
Daily contact lenses offer maximum comfort and hygiene as they are discarded at the end of the day, granting the user a new pair at the next fitting. Ideal for users who do not wear contact lenses every day as they provide flexibility of use and savings.
Hydrogel
Hydrogel is a highly hydrophilic material with high water composition. Through water, they support a proper distribution of oxygen to the cornea of the eye, offering high hygiene and comfort for each user. Whilst hydrogel contact lenses are the easiest choice for first-time wearers, they are notorious for their instant drop of performance after long usage within the day.
More Information

| | |
| --- | --- |
| Brand | Dailies Aqua Comfort |
| Model | Dailies Aqua Comfort Plus |
| Frequency | Daily |
| Corrects | Astigmatism |
| Water Content | 69,00% |
| Oxygen Permeability (Dk/t) | 26 Dk/t at -3.00D |
| Material | Hydrogel |
| Lens Technology | Nelfilcon A |
| Package Content | 90 |
Τι είπαν για εμάς
Kylie Graham

They were so helpful with helping me get the correct contacts with my shape and even through in free sample contacts as well!

Αθηνά Κεσίδου

05/2023 μέσω Google

Εξαιρετική επιλογή καταστήματος, άμεση και ακριβής η εξυπηρέτηση από τις κοπέλες. Με βοήθησαν να βρω κατευθείαν αυτό που ήθελα λόγω περιορισμένου χρόνου, παρ'ολο τον φόρτο εργασίας που είχαν εκείνη την στιγμή στο κατάστημα. Καλές τιμές σε σχέση με τα τριγύρω καταστήματα. Συστήνεται ανεπιφύλακτα.

DIONISIS GIANNAKOPOULOS

12/2022 μέσω Google

Απίστευτοι επαγγελματίες!!!! Ότι και να πω είναι λίγο!!!! Άμεση εξυπηρέτηση και ευγένεια!!!! Καταλαβαίνουν απόλυτα τίς ανάγκες των πελατών τους!!!!! Συγχαρητήρια!!!! Είμαι χρόνια πελάτης και δεν τούς αλλάζω με τίποτα!!!! Συγχαρητήρια!

Βαρβάρα Μουτάφη

11/2022 μέσω Google

Το καλύτερο μαγαζί της Αθήνας! Απίστευτες τιμές, καλό και ευγενικό προσωπικό! Μεγάλη γκάμα φακών επαφής! Το λατρεύω!!!!

Harry Keramidas

12/2022 μέσω Google

Υπεροχη και γλυκιά εξυπηρέτηση της κοπέλας που με πήρε για διευκρίνηση και ενημέρωση. Την ευχαριστώ πολύ για το ενδιαφέρον και την ευγένεια της!!

ΜΑΡΙΑ ΠΟΝΤΙΚΑΚΗ

09/2022 μέσω Google

Μοναδική εξυπηρέτηση και άψογη ποιότητα. Έχω προμηθευτεί απο το συγκεκριμένο κατάστημα γυαλιά οράσεως μα και ηλίου.. Πολύ καλές τιμές και στις δύο περιπτώσεις. Μεγάλη ποικιλία σε κωδικούς και πολύ καλές εκπτώσεις σε επώνυμα μοντέλα. Μπραβο σας!!! Keep up the good work

Y K

08/2022 μέσω Google

Αν ψάχνετε για κορυφαίο service, προϊόν και ειδικούς με τεχνογνωσία γύρω απο τις "οπτικές" σας ανάγκες τότε είσαστε στο απόλυτο μέρος. Απο τη μέτρηση μέχρι την κατασκευή και την εφαρμογή/εκμάθηση, η ποιότητα της δουλειάς της dream team Φένια-Κωνσταντίνος-Ευαγγελία ξεπέρασε μακράν τις όποιες pre-purchase προσδοκίες. Very highly recommended and definitely Τhe opticians for my future needs!

Ross Black

08/2022 μέσω Google

Φανταστική εξυπηρέτηση. Πολύ συμπαθητικές και οι δύο κοπέλες. Εμένα με εξυπηρέτησε η Ευαγγελία που είναι μια γλύκα και το κορίτσι μου έφερε 100 ζευγάρια να δοκιμάσω με ευχαρίστηση και υπομονή. Τα γυαλιά που πήρα σε όλα τα άλλα μαγαζιά (έκανα έρευνα και μετά την αγορά) είναι αρκετά πιο πάνω σε τιμή. Δηλαδή τα πήρα σε πολύ καλή τιμή, δεδομένης της μάρκας και του μοντέλου. Ευχαριστώ πολύ κορίτσια κι αφεντικό.